Men's bracelet Giveaway
Posted by 11 on
Do you like unusual jewelry?
What could be more elegant than a pretty steel bracelet to complete any outfit?
Style and quality and nothing else, to get back to the basics of the men's bracelet. A clean line and sober details give this men's bracelet an explosive visual result.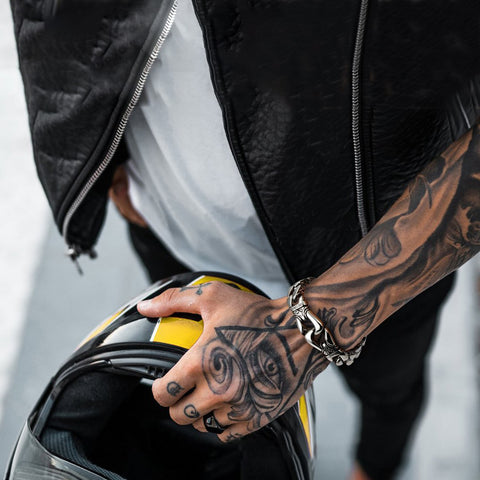 Thick, and sturdy. This stainless steel bracelet is made to recall an antique style. Each link is detailed with a small Aztec design on the side.
Stainless steel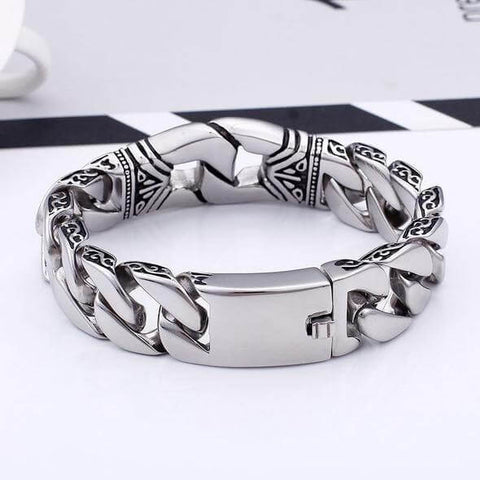 Trendy and all-terrain material, stainless steel is very resistant to friction and excessive stress does not tarnish, resists corrosion, which makes it a material of choice for backpackers.
Another plus: to keep its original shine, it requires minimal maintenance, making it a favorite with male customers.

If you have allergic skin, look for a surgical steel jewel (marked 316 L), which does not contain nickel.

You have noticed the stainless steel and a splendid material which allows a lot of creative fantasies!

And yet there are still people who snub this fabulous metal ??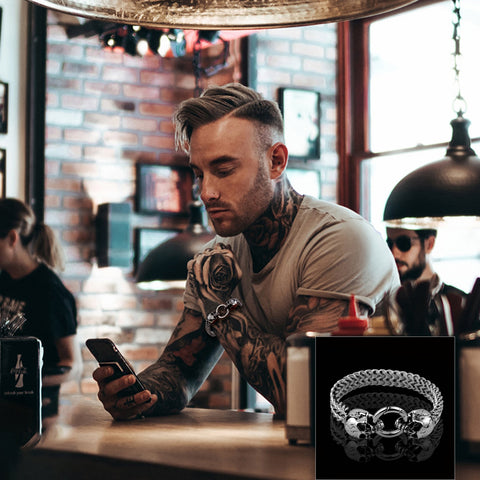 The Skull curb chain with bite
Let yourself be seduced by the devastating effect of the double skull curb chain.

On the wrist, bring out your rebellious and punk side with this sublime design.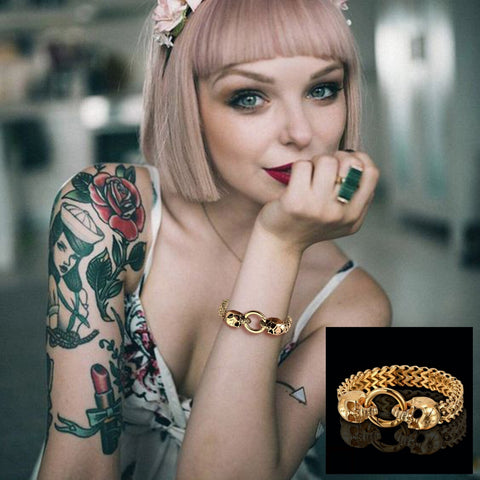 The final touch of a badass look, this evocative bracelet accentuates your rebellious and chic character.

The elegance of the large mesh goes wonderfully with the divinely macabre design clasp. The finely chiseled skulls linked by the ring stand out like the detail that kills and lights up your wrist.

Strong in character, this Skull Viarus Ravage bracelet will give the greatest effect to every handshake.

An Attractive, Robust, and 100% Trendy Bracelet!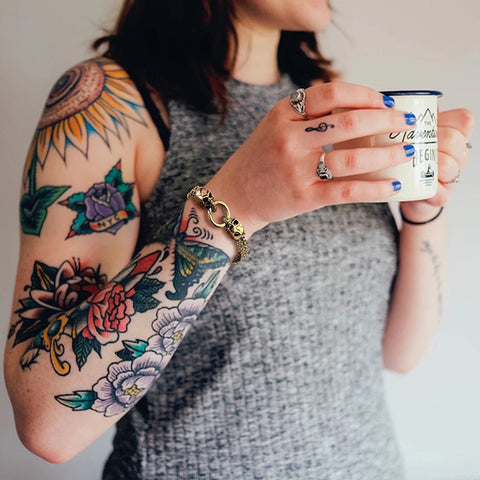 Its lobster clasp is not only striking but also very practical and easy to use. The flagship detail of the jewelry, the carabiner attachment ensures continuous support with gentle and easy handling.

This curb chain with large airy rings that are slightly flattened on the skin gives strength and virility to the wrist. All stainless steel, you can wear it all day long without fear of reaction or fading.

This skull jewelry with a marked design is the perfect piece to impose your punk style. Think to strengthen with the addition of gothic rings to emphasize the spirit and rebellious rock.

A superb, undeniable revealing accessory, aimed at both men and women who love distinctive jewelry.

Double Skull Bracelet Design: This bracelet is an excellent choice of gothic style, Viking style, and also for those who have a skull aesthetic. We think fans of heavy metal music would have a crush on it too.

Showing up on Halloween or a punk show with our bracelet makes you an expert in dressing up for a theme party.
Men's bracelet Giveaway
Giveaway is also live on Instagram. Below are the 5 rules to enter the giveaway (Open to US/Canada/EU), Giveaway ends on 6st June 2021:
1.You must subscribe to our account✨
@weinez_steelshop
2.thumb up and save this post and like our latest posts
3.Invite a friend to thumb up and comment
(1 friend = 1 comment = 1 chance to win, so the more comments you post, the more chance you have to win)
4. To double your chances of winning, please share this post in your Instagram Story!
5. Tell us in the comments why did you win this gift
Or participate in our giveaway through gleam
I will select 2 winner at random on 7st June 2021 and announce it here and on Instagram (Be sure to check my Instagram stories and this blog post for the winner announcement).
The winner must respond to the email within 24 hours. Otherwise, another winner will be selected in their place.
The giveaway prize will be shipped directly by the WEINEZ to the winner. Note: all entries are subject to verification. Good Luck!
---
Share this post
---